I Love trying out new recipes and a few 1days back I tried something new and it turned out to be a yummy dish. It was quite a simple and quick recipe, so I thought why not share it with you guys. If you are a chicken lover and like to eat crispily fried chicken here's an easy and quick recipe for crispy fried chicken using masala oats. Hope you will like trying out this recipe. So let's begin.
Ingredients
Chicken-250 grams
All the other ingredients should be in proportions of chicken you've taken. I am writing it for 250 grams of chicken.
Red Chilli powder(Laal Mirch Powder) – 1 Teaspoon
Black Pepper powder (Kali Mirch Powder) -1 Teaspoon
White pepper powder (Safed Mirch Powder)-1 Teaspoon
Turmeric powder (Haldi Powder)-1/2 Teaspoon
1/2 Lemon (Nimboo)
Ginger Garlic paste (adrak lehsan paste)- 1.5 Teaspoons
Corn Flour-1.5 Teaspoons
All-purpose flour(Maida)-1 Teaspoon
1 whole egg
Curd (Dahi)-2 Teaspoons
Salt (Namak)-As per your taste (I have added 1-2 Teaspoons)
Finely chopped Coriander(kotmir/Dhanya)-1 small cup
1 packet Masala Oats (15 Rs pack)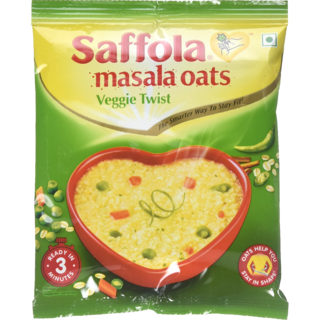 I've used masala oats you can use plain oats or any other flavoured oats of your choice.
Preparation Method:
Step 1: Take the chicken in a bowl wash it properly and add all the ingredients one by one. You can always start by adding all the masala's
Step 2: Add Red chili powder, Black pepper, White Pepper, Salt, Turmeric, Ginger garlic paste, curd, Lemon juice and finely chopped coriander to the chicken bowl. After adding all these ingredients mix it well with your hand or a spoon. I prefer mixing it with my hand.
Step 3: Add Corn flour, All purpose flour, and egg to the above mixture. Mix it well. The consistency of this mixture should not be very thick or too flowy. It should be moderate.
Step 4: Now take another bowl and put the masala oats in it.
Step5: Now dip all the chicken pieces into masala oats. The pieces should be nicely coated with oats.
Step6: Take a pan or a kadai and add some oil in it. Make sure that the oil is enough for deep frying the chicken. (If you are health conscious  you can either shallow fry or bake the chicken.)
Step7: Heat the oil until it gets hot and fry the chicken pieces. Start adding chicken pieces at a high flame and then reduce the flame to medium. Fry the chicken pieces till they turn golden brown in color.
Step8: Serve the chicken pieces hot on a plate.
Some Important Tips:
Take Boneless chicken and cut the chicken into small pieces.
You can either add 2 egg whites or 1 whole egg to the mixture.
If you feel that your mixture is too watery after step 3, you can either add more corn-flour or more all-purpose flour.
If you feel that your mixture is too dry after step 3, you can add more curd or 1 more egg to it.
Make sure that you heat the oil properly. If you heat it less the chicken will become soggy and if you heat it more the outer part will get burnt and the inside part will not be properly cooked.
So to avoid the above problem keep the flame on high for 3-4 mins and after you add chicken pieces to the oil reduce the flame to medium or medium-high.
It is always better to taste test before you fry all the pieces. Just fry one sample piece in the beginning and taste it for salt and spiciness.
If the salt or spiciness is less you can always add more salt or more chili powder.
If the salt or spiciness is more you can add more flour to your mixture.
Hope you like this recipe and Enjoy cooking. If you have any doubts you can comment down below and also share the pics of your creation. I would love to see how this recipe turned out for you.!