Thugs of Hindostan Review by Major Critics.
Amidst the unprecedented hype , Thugs of Hindostan hit the theaters today. Starring Aamir Khan and Amitabh Bachchan in the lead, Thugs of Hindostan is expected to match the highest standards set by Aamir Khan. Does it live up to the hype and hoopla surrounding it? We present to you compilation of review from the major media houses.
Average Rating : 1.8/5.0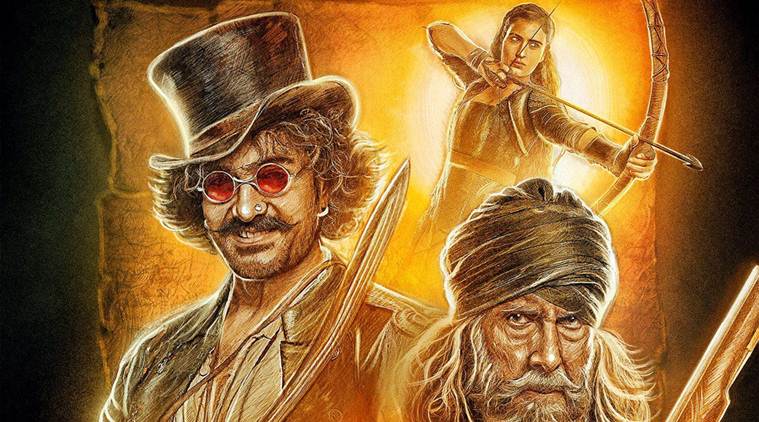 1. Review by Times of India : 2.5/5.0
Apart from the stray funny moments and consistently good visuals (thanks to decent CGI efforts), 'TOH' doesn't really have the punch or the thrill that is required to pull off a film of this scale. At 2 hours and 45 minutes, the film feels a little too long and that's down to the problematic editing. The grand canvas of the film does hold sway in terms of the visual experience, but at the end, this one is all show and no substance. With the mammoth expectations attached to this movie, the end experience just leaves you all at sea. [ Also Read : Thugs of Hindostan Box Office Collection Day 1 : Records Demolished ]
2. Review by Bollywood Hungama : 2.0/5.0
On the whole, THUGS OF HINDOSTAN has some engrossing moments in the first half, that's about it. The post-interval portions are an absolute downer. The plot is formulaic, while the screenplay is riddled with cinematic liberties. At the box-office, TOH is bound to have a huge weekend thanks to the festive period coupled with tremendous hype and the impressive names involved. But once the initial euphoria settles down, it'll be difficult for the film to sustain. This one is a golden opportunity lost, a KING-SIZED DISAPPOINTMENT!
3. Review by Indian Express : 1.0/5.0
As you slide into Thugs of Hindostan, you expect a rousing tale of thuggery and patriotism, because that's what the name suggests. You also expect a modicum of quality filmmaking because you can't get more A-list than Yash Raj Films, Amitabh Bachchan and Aamir Khan. What you get instead is nothing but a massive cherry-picking enterprise from big entertainers of the past, many of them YRF's own. Not only do you end up picking up on past films, scenes and references, you are left struggling with staleness and boredom. The only one having a blast is Aamir Khan, in his curly mop coloured a carrot shade, a glint-in-the-eye Awadhi thug. And while he's around, it's bearable. Just about.
The rest of it is a non-stop combo of eye-roll-and-eye-glaze.
4. Review by NDTV : 2.5/5
Thugs Of Hindostan is all sound of fury: there is no dearth here of cannons and guns, bows and arrow, and swords and daggers. However, the narrative weapons it presses into service are hopelessly blunt and ineffective. It tries hard to impress but hardly ever does. Glitzily mounted but caught between solemnity and fluffiness, Thugs of Hindostan might entertain large swathes of the audience, but it is ultimately too tacky and unconvincing to lay legitimate claims to being India's answer to Piratesof the Caribbean. It isn't even a poor copy.
5. Review by India Today : 1.5/5.0
There is hardly anything in the film that justifies the two-year wait that Aamir Khan made his fans go through. That is the problem of being a good actor with a nose for good scripts. Aamir Khan has built his reputation on good scripts. All of that is missing in his latest outing.
In Thugs of Hindostan, Firangi tells his friend, "Mere haath se zeher bhi kha loge kya?" Only if he could extend the poison to the audience too.
6. Review by News18 : 2.0/5.0
Thugs Of Hindostan builds up a larger-than-life narrative and then loses ground. Just when you begin adjusting to one kind of tonality, it changes into another film. Holding a film together for 165-minutes is anyway a daunting task, but with the stellar star cast, it should have been nothing short of a spectacular party. But it isn't.
Thugs Of Hindostan may satiate your need for entertainment this Diwali, but overall, it's a solid case of great boast, little roast.
7. Review by Hindustan Times : 1.0/5.0
It takes a lot to make pirates boring. Without a doubt, Thugs Of Hindostan is a whole lot of movie — the biggest budget Yash Raj production of all time, the first film to star both Amitabh Bachchan and Aamir Khan — and yet this giant period epic turns out to be feeble, formulaic and entirely forgettable. Directed by Dhoom 3's Vijay Krishna Acharya, here is a film so dull and unoriginal that it can only inspire the shrugs of Hindustan. [ Also Read : Thugs of Hindostan Box Office Collections Day 2 : Falls Flat! ]
8. Review by Koimoi : 2.0/5.0
All said and done, Thugs Of Hindostan is no Race 3 or Veer but it's an awe-inspiring disappointment. At this stage of his career, Aamir Khan should be extra cautious of not slipping towards the projects and act in the movies he's known for. Thugs Of Hindostanwill do nothing but steal your ticket money giving nothing memorable in this barter.
9. Review by Republic TV : 2.5/5.0
With a jerky cinematography, this film fails to grip you even during the much-promoted sword fight sequence between Aamir and Amitabh. The latter only begins with his dialogue delivery after we are 30 minutes into the film. Poor graphics and VFX further disappoint the spectator with its execution. Amitabh Bachchan and Aamir Khan's eclectic performance fails to save a predictable tale that falls flat in its second half with unnecessary twists just to amp up the grandeur of the film.
10. Review by Film Companion : 1.0/5.0
Trust the makers of Dhoom 3 to make a 300-crore movie look spectacularly unambitious. Thugs of Hindostan is the Bollywood manifestation of Halloween – an amusing, self-gratifying but altogether pointless fancy-dress ball designed to trick audiences under the guise of treating them. The result is a tiresome action adventure with tiresome superstars who are too tired to act adventurous. [ Also Read : 5  Records Thugs of Hindostan is chasing ]