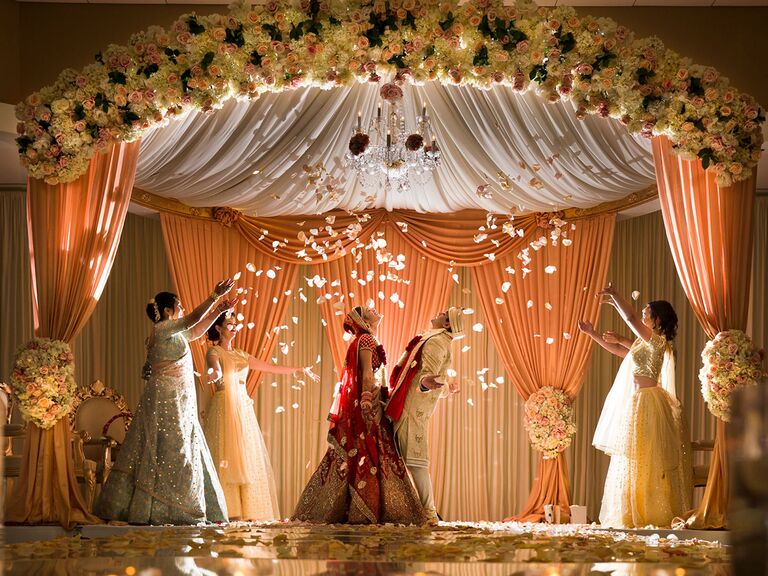 What can you wear at your wedding? There are various types of Indian bridal dress styles available for the bride. Why just follow what everyone else is opting for when you have so many options to choose from.
Customize your dress to give it a personal touch. Be unique in selecting and personalizing your dress to stand out from everyone else.
Here are a few options for your bridal dress.
Indian Bridal Sarees:

A saree will make a woman look elegant and classy. Flaunt your elegance and beauty on your wedding day by wearing a saree.

Saree for a wedding is a tradition in most of the places. If you want to wear a saree for your wedding, choose a color that suits you the best. Saree is the most worn Indian bridal dress in the South of India.
If you are not a great fan of heavy work saree then opt for a simple saree with a nice border.
For making a saree look the best on you, Learn to drape it well as the better you drape your saree the better you look. You get to choose from a huge variety of collection of sarees to wear at your wedding. 
Bridal Lehenga | Ghagra:

Designer Bridal Lehengas are very popular with high-end designers these days as it gives a royal touch to your look.
Lehenga is the most popular Indian bridal dress style. There is a huge variety of bridal lehenga collection all over India.  Do your research well before you go for shopping as you can get confused by looking at so many designs. Look for various images of bridal lehenga designs on Pinterest choose your favorite designs and find out shops where you can find your chosen designs or where you can get your own customizations done.

You can also choose a lehenga suit where you wear a kurta instead of a blouse. the kurta can be knee length or longer or shorter. You can choose from a variety of designs and works embellished on the lehenga suit.
Bridal Gown | Ball Gown:
There are a lot of design options available for your wedding gowns, where Ball gowns, mermaid style gowns or sheath style gowns are the most popular ones. You also have a huge variety for Indian bridal gowns-You can get nice flowy gowns with a lot of poofs and beautifully intricate designs. Choose a design in which you feel confident and comfortable. Never give up on the comfort for the dress on your wedding day.
Every girl dreams to look like a princess at least once in her lifetime, why not look like a princess on your wedding day as you will be the star of the party. You can opt for a ball gown or an Indian bridal gown with a lot of puffiness. Add some extra bling to feel like a princess.
If you are not a fan of bling you can opt for simple gowns and if you do not like dressing up like a princess then you have many more designs to choose from.
Layered gowns are totally in these days. These type of gowns are chosen by many brides as the gowns showcase amazing thread works or hand design works which increases the beauty of the dress to the fullest which intern makes the bride look magnificent.
Gharara: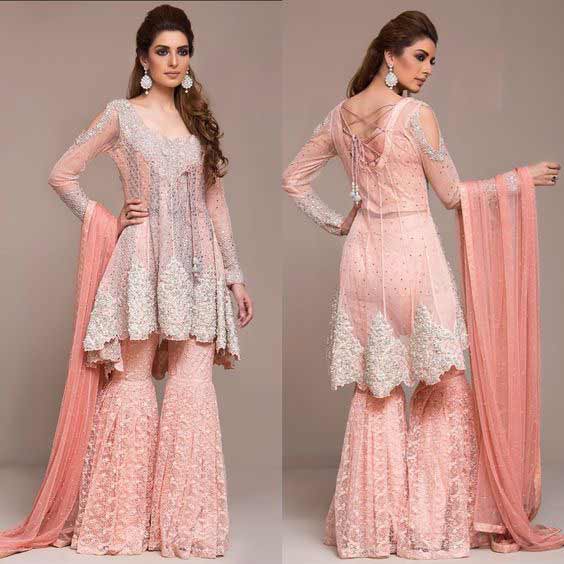 Gharara is very unique and classy dress style mostly popular from the era of Nizams. There are a lot of gharara designs available in the market. Choose the best gharara design for your wedding dress to get a unique nawabi look. Select a short kurta rather than a long one as the short kurta will enhance the look of the gharara whereas the long kurta will hide the details of the gharara. Gharara is a classy Indian bridal dress style.


Choose a good color combination for your dress, contrast colors will enhance your entire look.
Khada Dupatta:
Khada dupatta is an elegant, classy and royal looking heavy work dress especially worn by Muslim Hyderabadi brides. It is an elaborate wedding ensemble comprising of a kurta, churidar and a very long dupatta which is beautifully draped around the entire dress in a very unique way. The dupatta is the main specialty of the khada-dupatta as it has very intricate and beautiful work all over it with a very heavy and thick border.
Choose a khada-dupatta for your wedding if you want a nawabi look for your wedding.
Dress with trail:

If you love the fashion diva's or the celebrities walking down the red carpet with a long trail following them then why not wear a long trail dress for your own wedding. Choose a long trail dress if you want to stand out from the crowd as not many brides opt for a trail dress.


You can add a trail to a few of the bridal style dresses like you can wear a long trail kurta with your lehenga or a long trail jacket over your gown. check out our blog for Hairstyles for Girls to try on Valentine's day
Some tips before you decide what to wear:
☆ Opt a color which suits the best on you.
☆ Look for options and designs on Pinterest and other websites before you go shopping (Search for Indian bridal dress online).
☆ Be sure about the dress you are buying, buy a dress only when you are 100% satisfied as you will not want to regret your decision later.
☆ Be sure to order your dress way before your wedding so that you get it on time and alterations can be done if needed.
Finally, Look the best on your wedding, select your most favorite outfits, finalize your perfect dress and flaunt it. Enjoy your wedding to the fullest.